We have some great events coming up at HRCA!
Click the links below or check out our calendar to find out more.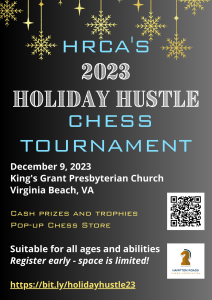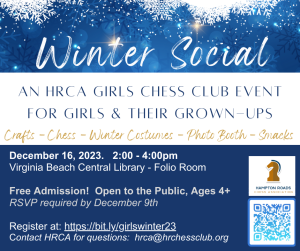 Register for Girl's Club Winter Social 

Save the Date –
Slover Scholastic 1/6/24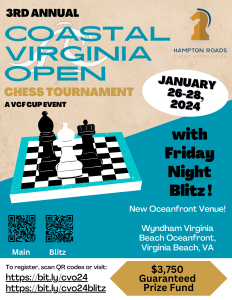 Register for Main Event
Register for Friday Night Blitz 
See our full calendar of events below, including save-the-date events!   Click on the event name for more information and registration links.
December

2023

Sun
Mon
Tue
Wed
Thu
Fri
Sat

9

HRCA Holiday Hustle Tournament

•

16

Girls & Their Grown-Ups Winter Chess Social

•

24

HRCA Closed - No Classes or Clubs

HRCA Closed - No Classes or Clubs

• •

25

HRCA Closed - No Classes or Clubs

•

26

HRCA Closed - No Classes or Clubs

•

27

HRCA Closed - No Classes or Clubs

•

28

HRCA Closed - No Classes or Clubs

•

29

HRCA Closed - No Classes or Clubs

•

30

HRCA Closed - No Classes or Clubs

•