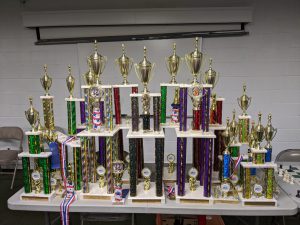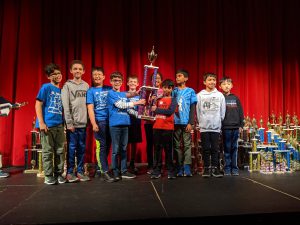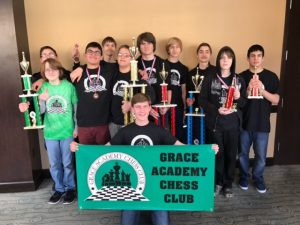 Who do you serve with school chess programs?  We serve public, private, and homeschooled students in grades Pre-K through 12th across Hampton Roads.
What can HRCA do for my school?  
We can provide FREE guidance and ongoing mentorship to any school staff member desiring to start and operate a chess club.  We can provide 10 free chess sets to schools starting chess clubs for the first time, in partnership with the Virginia Chess Federation.  We can provide coaches to deliver the curriculum and guide the development of your school chess club or team (costs involved).  We can also procure equipment for your school at wholesale prices.  If your school would like to host a tournament, we can assist you with that, as well.
You choose the goal and focus of your club — competition, academic improvement, life skills, etc. — and we will tailor the program to your goals!
What curriculum do you use?
Our coaches have extensive experience using a variety of curricula.  Our beginner classes roughly follow the first 26 levels of the ChessKid.com curriculum for a complete foundation, though coaches may use any material at their disposal to teach the concepts.  Once students have completed a beginner course with us (one semester), we provide our coaches a list of topics that are appropriate to cover with students as they progress, and they are free to cover material in any way they see fit, or to come up with their own topics based on their best knowledge of their students and what they need.
For teacher / school staff – led programs (with HRCA providing free guidance and mentorship for the duration of your program), we can train the club leader to teach chess using ChessKid.com's Lesson Planning feature (full access to video-based lesson plans).  Some small fees may be involved for online training accounts for students if desired.  Teachers will be provided free accounts.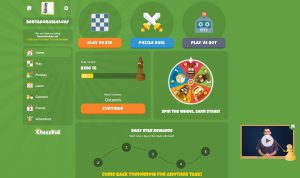 When do your programs run?  We can start and end any time that works for your school.  As a general rule, the ideal length of a semester of chess club is 12 weeks for instruction and practice.  Some schools opt for 2-3 additional sessions for in-house tournaments at the end of the semester.  You can schedule your chess club after school, during lunch, or before school!  School chess programs generally run for one hour once a week.
Where do your school chess programs take place?  We come to you!  You provide adequate space for the club to meet (classrooms, cafeteria, etc.) and take care of facility use paperwork or let us know if we need to do so.
Is your organization insured?  YES.  We carry an insurance policy for our programs, and we can add your school as an additional insured.  We work with school systems to determine what other insurance requirements they may have for us.
What credentials do your coaches have?  Are they background checked?  All HRCA coaches are certified by US Chess.  HRCA runs monthly background checks on all of our coaches!  If your school requires additional background checks, we will comply.
Do you require school personnel support during program time?  This is totally up to the school.  We've seen and done it all, from teacher-sponsors in the classroom handling checking students in and out and managing behavior, to PTA-led programs with parent volunteers assisting with these duties, to schools that leave us completely on our own to handle the classroom and attendance.  We strongly prefer to have school / parent volunteers involved in the program.
How much do your programs cost?  The standard rate for HRCA-coached school chess programs is $75 per student per semester (or $6.25 a week per student).  This is based on a bare minimum of ten students per coach meeting once per week for one hour for 12 weeks.  One coach can handle a classroom of up to 20-24 students (with volunteer support).  This fee includes HRCA membership for the year, coaching, and admin fees.  Schools that require a coach to travel excessive distances (those on the fringes of our service area) or pay tolls may incur a travel surcharge.  Schools with fewer than ten students or with a very large number of students may deviate from the standard rate to cover costs.  Schools with significant excess of funds over the course of the academic year due to large enrollment may request that some of the funds be used to purchase additional chess equipment for the school, pay entry fees to tournaments, etc.
Is there financial help for Title 1 schools?  Title 1 schools pay a standard rate of $60 per student per semester (or $5 a week per student) based on the same planning factors as above.  HRCA will not accept direct parent-pay for Title 1 schools.  This is because not every child in the school zone is below the poverty line, and only those who have the financial means would be able to participate in chess club, which is not our desire.  We work with schools and PTAs to cover the costs.  HRCA is working hard to raise funds to cover ALL costs for Title 1 schools.  If we receive grants / donations specifically for this purpose, we may be able to waive all fees for Title 1 schools.  US Chess also provides grants to Title 1 schools, through HRCA sponsorship, that will provide additional free chess equipment and free US Chess memberships for members of the chess club.
Needs-based financial aid is available to ALL individual students, regardless of school, through our Joan H. Schlich Memorial Scholarship Fund.  We strive to turn no child away for inability to pay.
For further information or to request an HRCA School Chess program at your school, contact us.
---
Why Chess?
Countless studies conducted around the world prove that chess helps children perform better in school and on standardized tests.  Systematic chess study and practice helps children with focus, planning, decision-making, impulse control, calculations, pattern recognition, and more.
Related Links
Compilation of Chess and Education Research Studies
Chess Improves Academic Performance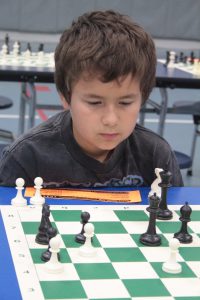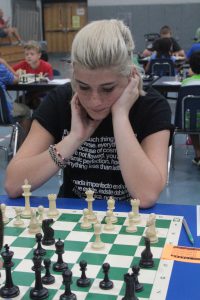 If you would like to donate to help offset costs for kids at Title 1 schools, including donating personal chess sets for home use, click here:  https://bit.ly/givechess
Thank you for your support!