Welcome to the Hampton Roads Chess Club [HRCC] webpage
IMPORTANT HRCC NEWS!
The HRCC has resumed  [OTB] play on Tuesdays at the Church!
CONGRATS TO HRCC SPRING CLUB CHAMPION CHRISTIAN CARRASCO AND AMATEUR CLUB CHAMPION PHILLIP CRADLE!
SLOW SWISS TUESDAY APR. 13-20 LINK BELOW
https://www.kingregistration.com/event/Aprslowswiss
Basic Covid-19 restrictions.  The church doors will open around 6:30 pm. No visitors, spectators, or family will be allowed in the church. Players will need to register on-line at least one day in advance.  These restrictions are mandatory so we can meet the COVID-19 restrictions by the church and local & state governments. We are working on the advance registration process. The new schedule is listed below. We are looking for volunteers to help the club set up, sanitize, clean and close the club each week. Please contact us if you are willing to help. We will start a volunteer schedule in the next few weeks.
Eastminster Presbyterian Church COVID Clean-up Procedures
All players are required to read the HRCA COVID Protocol and submit a signed copy of the acknowledgement / waiver at the bottom of the last page in order to play.  To facilitate minimum contact, players are requested to scan or photograph and e-mail their signature page to us prior to their first day of participation.  This form is good for six months from the date of signature.  There will be zero tolerance for violation of these protocols, and doing so may result in forfeiture of a game in progress and/or denial of participation in future events.
All players will answer health screening questions upon arrival at the club.  To avoid the trip / being turned away, please read the current questions here.  If you answer yes to any question(s) and were pre-registered, please CONTACT US to let us know that you will be unable to attend.  
HRCA COVID Screening Questions
CASUAL PLAYERS — do NOT use the registration link above to enter.  Simply contact us after you have arranged your own casual pairing, with both names, and we will reserve slots for you.
Games will be played with the usual board set up, but additional spacing between boards.  IF YOU REQUIRE THE ACCOMMODATION OF ADDITIONAL DISTANCE — DOUBLE BOARDS AS PICTURED BELOW (but with masks) — CONTACT US in advance so we can have the boards set up before your arrival.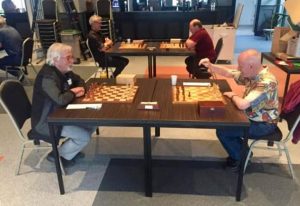 Site:   Eastminster Presbyterian Church
3229 MacDonald Road  Virginia Beach, VA  23464
Park in the parking lot and enter through door in back of church.
Our club is open to players of all ages and skill levels.  We have casual chess, USCF rated tournament chess, and occasional other activities.
See the home page for information.  Click to follow the club on Facebook.
We meet on Tuesdays from 6:45 pm to 10 pm. Registration is from 7:00 to 7:30.  Most tournaments start at 7:45
The club is free to attend. The tournaments have low entry fees and many have prizes. Almost all our tournaments require USCF membership.  US Chess Affiliates (including HRCA) are unable to process memberships on the new US Chess website at this time.  You MUST join or renew on your own at uschess.org before arriving for the event.  
The club has some sets, boards, and clocks. It is greatly appreciated but not necessary to bring your own equipment.  This is not true while the corona virus restrictions are in effect. We will provide equipment that has been sanitized. Do not bring your own equipment.

The Club Activity and Tournament Schedule has been updated. It now has the list of events for the remainder of 2020.
We also have an on-line club at Chess.com.  Go to our   HRCC on-line play  page to learn about the club and how to play.
Here are links to the HRCC current and archived events
2020 HRCC Schedule fall 2020 09-20
The following HRCC links may not work. Those pages are under construction.   

Click here to see the conditions for the bi-annual club championships
Click to see the archive for the club champions and Championship tournament standings.
Links to other organizations.
US Chess         Virginia Chess Federation [VCF]          The Virginia Scholastic Chess Association