Latest News  Updated 9/25/18
News
Congrats to our HRCA players on their performance in the VSCA Grafton Fall Chess Festival on September 24th!
In the K-5 Open section, our players took four of the top five spots.  Ishaan Potnuri took 1st place, Melinda Brady 2nd, Alex Carraco 4th, and Varsha Padmanabhan 5th.  In the K-12 Open section, our players took three of the top five spots.  Ky-Quan Pham and Bao-Quan Pham tied for 1st place with perfect scores of 4.0, and Nimish Nookala took 5th place. In the Small Swiss for adults and advanced scholastic players, our kids took 1st — Tyson Brady — and 2nd — Christian Carrasco.  Our Old Donation School teams took 1st place in K-12 Open and 2nd place in K-5 Open.  Our NKA Homeschool Collective team took 1st place in the K-5 Not Rated section.  Liam Cowell was 2nd and Kelsey Gardner-Anderson 3rd in that section.  Ishaan Potnuri, Varsha Padmanabhan, Ky-Quan Pham, and Tyson Brady earned personal best ratings from the tournament.  Great job, everyone!
Congratulations to HRSCC's own Joseph Cagle, who won the State Amateur Champion title at the Virginia Closed Championship over Labor Day weekend!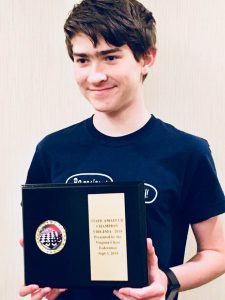 Local HRCA player Robert Eggleston, who is blind, competed in the FIDE World Junior Chess Championship for the Disabled in New Jersey from August 8-12.  It was an amazing experience that inspired this novice player to smash through his physical limitations and return next year stronger than ever!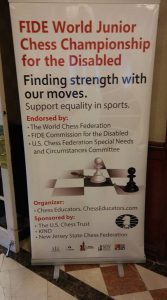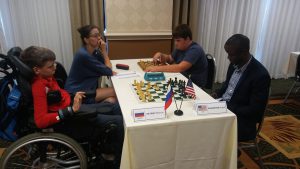 Robert's assistant most of the week was Uganda's Robert Katende of "Queen of Katwe" fame.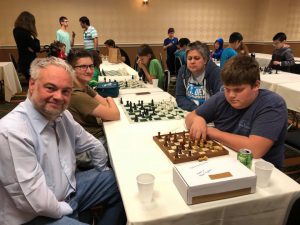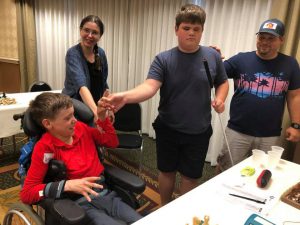 Robert competed against some world-class players from Russia, Uganda, and Germany.  He got some inspiration from GM Thomas Luther (Germany), FIDE Chairperson, Commission for the Disabled.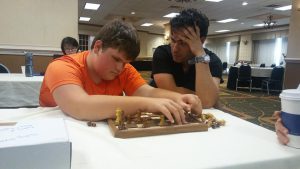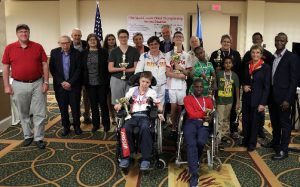 Robert received some one-on-one lessons from GM Sandro Pozo (Cuba).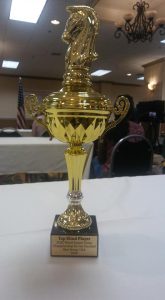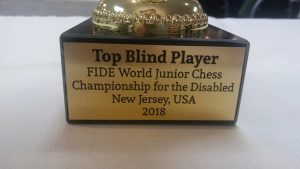 ---