The Hampton Roads Scholastic Chess Club [HRSCC]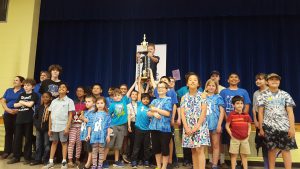 HRSCC is full.
Please contact us to be placed on a wait list or for more information.  We will work with our wait listed families to provide other opportunities to begin their chess journey while they wait for a club slot to open up.
Hampton Roads Scholastic Chess Club (HRSCC) provides formal chess training and competition opportunities for children in grades Pre-K through 12 of all abilities, from learning how to move the pieces to national competition.
Site:    Eastminster Presbyterian Church
3229 MacDonald Road in
Virginia Beach, VA 23464
Enter through door on the side of the church (from the parking lot).
 When:   The club meets every Tuesday year round from 5 to 7:15 pm.
Cost: $20 annual  registration fee, $20 summer training fee, monthly dues of $10. Discounts for multi-child families available.  Thanks to the Joan H. Schlich Memorial Scholarship Fund, no child will be turned away for inability to pay.
                      See the current tournament standings           Club Schedule 2018-2019