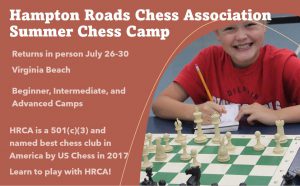 July 26-30, 2021
***NEW LOCATION***
Pembroke Office Park, Building 4, Suite 515
291 Independence Boulevard, Virginia Beach
Morning, Afternoon, or Full Day options
Read about our camp options below, and then CLICK HERE TO REGISTER FOR CAMP!
HRCA is committed to the safety of your children.  All COVID protocols, social distancing, and capacity restrictions dictated by the facility host, local, state, and federal government will be followed.  Masks are required.  
Campers can choose from the following options.  Beginner camp is full-day only.  Intermediate and Advanced camps are offered in morning (9:00 AM to Noon) and afternoon (12:30 to 3:30 PM) sessions.  Each session stands alone.  Campers can attend half-day only, or full-day by mixing and matching which camp they would like to attend each half of the day.  All full-day campers must pack a lunch, water bottle, and snacks.  All campers must bring and wear their own mask.  Hand sanitizer and sanitizing wipes will be provided.  All chess equipment is provided.  Campers should not bring their own chess equipment.  No extended day care is offered.  Campers must be picked up promptly at the end of their session each day.
Beginner Chess Camp:  For children who have never been introduced to the game or know only the basic rules.  Children will learn all the rules of piece movement including castling and en passant; the concepts of check and checkmate; the ways a game can end in a draw; critical opening principles; fundamental tactics; how to calculate exchanges; and some basic endgame and checkmate patterns.  Basic positional and strategic concepts will be introduced if the group progresses quickly.  Children will also learn algebraic chess notation and tournament rules, and camp will conclude with a practice tournament.  Giant chess board, chess movie time, and other fun activities ensure this camp is fun and engaging for all ages!  HRCA beginner camp has produced many children who are strong local tournament competitors within their first season after attending camp.  Also suitable for kids who just want to be great casual players.  This is a full day camp.  Campers must arrive by 9 AM and must be picked up at 3:30 PM.  Pack a lunch, water bottle, and snacks.  Cost:  $300 for the week.
Intermediate Chess Camp — Endgame Boot Camp:  This camp is open to players rated Under 800 USCF or unrated but with previous training and tournament experience.  Players who are not solid on the fundamentals described above for Beginner camp should consider that option instead.  Current HRCA members with known training history are more likely to succeed in this camp.  Unknown players will be assessed for placement in the proper camp.  Campers can choose morning or afternoon sessions or both — each session stands alone and covers different endgame material.  Cost:  $150 per week for a half-day camp.
Morning:  This session will cover five basic endgame checkmates, four steps to endgame strategies, and drawing strategies will be covered.
Afternoon:  This camp will cover endgame tactics, techniques, and fundamentals.  Campers will learn opposition, flank opposition, distant and diagonal opposition, triangulation, and pawn breakthroughs / promotion.
Advanced Chess Camp.  These sessions are taught by strong National Masters and are intended only for experienced and ambitious tournament players rated over 800 who are ready to boost their rating.  They are suitable for players rated up to Expert (2000).  There are two morning options and two afternoon options.  All material is specifically designed for group lessons and not available in private lessons taught by these Masters.  Cost:  $175 per week for a half-day camp.
NM Daniel Miller Morning — Tactical Chess Endings:  Endings are not normally thought of as a venue for sharp tactics, but they frequently are.  This camp will cover various endings with dynamic imbalances and describe the proper strategy to maximize your piece activity and use hidden tactical themes to bring the point home. Combining knowledge of endgame theory and imagination to outwit your opponent and improve your results is what NM Miller consider the most important phase of the game.
NM Nemanja Milanovic Morning — Creativity:  While chess is often considered a "science" or "STEM" activity, it is actually just as much art as it is science.  Spend this morning session exploring how to apply creative ideas to play games of beauty.  Games with creativity, rather than basic tactics and calculation, are the games most players remember for a lifetime and the reason they fall in love with the game.
NM Daniel Miller Afternoon — Beating the Main Defenses to 1. e4!:  For any player who regularly plays 1. e4 or wants to begin playing the first move Bobby Fischer considered best.  This camp will cover Black's  plans in the Caro Khan, French Defense, Ruy Lopez, Center Counter, and the Sicilian Defenses, and also explain each defense's weaknesses which White can exploit. This camp should drastically improve all attendee's results as White. Learn the hidden tactics that enable you to win straight out of the opening, which pieces to trade and what plans White should carry deep into the middlegame.
NM Nemanja Milanovic Afternoon — Prophylactic Thinking:  Most kids are determined to make their plan work despite their opponent's moves to thwart those plans.  This camp will teach players  how to anticipate their opponent's plans and prevent them before they happen in order to stay in control of the game.  This is an extremely important skill at a higher level and is not something that many kids naturally think about.
Students unavailable for camp the week of July 26-28 may be interested in our weekly classes and clubs — CLICK HERE FOR INFORMATION.
CLICK HERE TO REGISTER FOR CAMP!
HRCA is a 501(c)(3).  Campers may request full or partial needs-based scholarship for any of our program fees under our Joan H. Schlich Memorial Scholarship Fund.
HRCA provides multi-child discounts for families with 3 or more children in our programs.
Contact us to ask about financial assistance for camp.