HRCA will be launching a major fundraising campaign to make our vision a reality — to lease, purchase, or build a state-of-the art chess center in one of our region's seven cities.
Since our founding over five years ago as a youth club with 18 players meeting after school once a week to play tournament games, demand for our programming has undergone explosive growth.  Our youth club now provides training and tournaments to 150 children, and sadly, we've had to cap it there and maintain a wait list with over 80 kids on it, as we are limited to meeting once per week at our church host site and simply lack the capacity to take any more children.  Further, due to different schedules, many families have told us they can't even be on the wait list because they are not available the only day of the week we are able to meet.  We believe we would instantly serve hundreds of children if we opened a chess center.
It is difficult to find venues to hold tournaments that are big enough and don't put us in the red with facility use fees — having our own tournament hall would be a dream come true!
Summer camps for working parents are in high demand.  A dedicated chess center would allow us to run camps all day every day all summer to meet this community need.
As we reach out to partner with more school systems in our region, our school chess program will require an administrative headquarters to ensure it runs smoothly.  A dedicated chess center would also allow us to run after-school programs on weekdays for tutoring and chess training, and a fleet of transportation is being explored.
Our additional programming — for veterans, seniors, at-risk youth, girls, people with disabilities, etc. — suffers from having to find free venues to host programs, rather than having a dedicated site where people can gather to learn and play chess.  As a result, we are not as far along as we would like with these programs.
The demand for chess programming during the day from preschool and homeschool parents is growing by leaps and bounds, and having a home for those programs would allow many more children access to this life-enhancing game.
We are approached by so many adults who want to learn to play chess, but we do not have the time and space to provide classes for them.
When we hold public events at a mall twice a year, closet chess enthusiasts come out of the woodwork and are so excited to find a community where they can share their passion for the game.  A chess center would take the game out of the hotel ballrooms, churches, and schools and place it front and center in a commercial setting for anyone to easily discover.  We have sketched out a full programming slate to meet the needs of the community and anticipate full classrooms every day!
The list goes on.  We simply need a dedicated space in order to fulfill our mission in all areas and serve our community.
After being recognized as the best chess club in America, HRCA has provided guidance to numerous clubs throughout the country, and just as we shared how we operate our club and the journey we took to become a non-profit, we intend to share our knowledge of raising the funds and operating a permanent chess center, as we feel these important centers of the community should exist nation-wide.  Sadly, there are very, very few physical chess centers in America due to lack of funding.
While we are still working on the numbers, our research to date and "back of the envelope" calculations indicate a need for a minimum of $2 million to secure and renovate a long-term home for our organization.  This figure is sort of a "go big or go home" estimate, as our dream facility would include:
 8 to 10 classrooms capable of holding 20-24 students each, all equipped with state-of-the-art technology for instruction
 A separate playing hall and/or retractable classroom walls to accommodate tournament of up to 150-200 players
 A lounge / waiting area for parents with live stream of games
 A coffee shop and snack bar in the front lobby area, as well as a small chess store
 A library to accommodate our growing collection of chess books available for our members to borrow
 A computer room where students can utilize online training sites and computer analysis for training
 A couple of small private coaching suites or nooks
 An outdoor area with chess tables and giant chess set, perhaps even a playground!
I guess you could say we'd like to be the premier east coast chess center, sort of the St. Louis of the mid-Atlantic.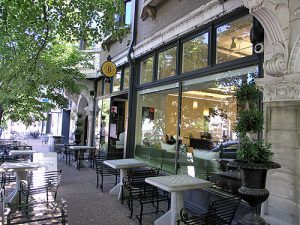 America's premier chess center in St. Louis is almost fully funded by a single benefactor!
While we are exploring public-private partnership, corporate sponsorship, and other funding options, you have the opportunity to contribute to making this vision a reality through your one-time or recurring donation to our capital campaign!  Make your tax deductible contribution today!